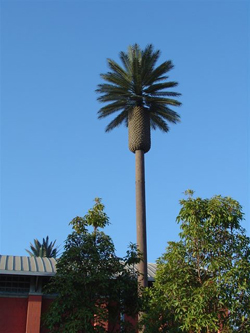 Monopalms are a monopole concealed as a palm tree. These structures are popular in tropical and desert climates in the United States, as well as in comparable climates around the world. NELLO monopalms are skillfully designed to blend into the surrounding landscape. Wireless carriers have increasing turned to monopalms or other concealment towers in urban areas because securing zoning approvals has become more difficult. Many municipalities are more receptive to concealment towers, due to their aesthetically pleasing appearance. In addition, a monopalm solution requires a small real estate parcel and can be erected in as little as one day. Other monopalm features are as follows:
Designed to latest EIA/TIA-222 standards (currently Revision F or G)

High strength 65ksi steel construction

Life-like branches for optimal concealment of antennas

Pineapple available to further disguise antennas

Painted trunk or bark cladding available

Galvanized per ASTM 123 standards

Typical heights range from 30 feet to 80 feet

Slip sleeve construction for quick and easy tower erection
All NELLO towers are custom engineered by our in-house professional engineering team to ensure local code compliance and structural integrity. For more information on NELLO monopalm solutions, or any of our other concealment products, please
contact us
.