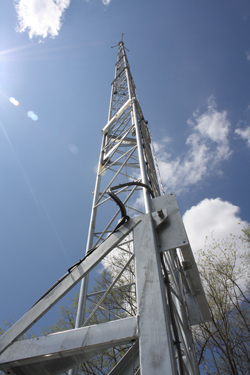 Portable telescoping towers are also known as COW's (Cell-On-Wheels), tower trailers, mobile antenna towers, mobile telescoping towers, and portable towers. Whatever the name, COW's produced by Nello Corporation are some of the most heavy-duty and rugged structures available in the market today.
We offer 2 different types of portable towers units: our
self-guying
(non earth penetrating) and our
earth-guying
(ground penetrating) cows.
Self-Guying Portable Towers

The self-guying portable tower unit is ideal for smaller parcels as it requires only 42' feet of clearance to deploy. This tri-axle unit comes with specially designed outriggers that fold into the trailer and swing out at deployment and is perfect for parking lots, frozen ground, rocky soil, and other difficult or tight site conditions. Telescoping to 106' (30 meters), the self-guying cow can be deployed and operational within minutes and is capable of a large payload at typical EIA/TIA-222 Rev G wind speeds.

Earth Guying COWS

Nello earth-guying cows are our most popular portable towers. Available in heights ranging from 30' to 106' (10m to 30 meters), Nello earth-guying cows are cost effective and easy to erect. Our standard trailer deck width for these units is 7 feet, which makes them ideal for export as they fit into a standard 40' shipping container. As with our self-guying units, the Nello earth-guying cow is capable of a robust payload at typical EIA/TIA-222 Rev G wind speeds.

Our mobile towers are used in a variety of industries and we have shipped units to over 25 countries throughout the world. Some of the applications Nello portable towers service are:
Emergency & Disaster Relief – temporary cell sites, police and fire communications, public safety communication

Surveillance – Homeland Security, border protection, remote location surveillance

Military – Communication, drone control, lighting, advanced weaponry deployment, radar, censor monitoring, surveillance

Oil & Gas – remote communication, drill/pump/rig monitoring

Construction – lighting and communication at job sites

Aerospace – telemetry, communication, and remote monitoring

Mining – open pit lighting, remote communication

Wireless – advanced network deployment, temporary cell sites, supplemental cell site coverage at sporting events, concerts, rallies, political gatherings, etc…

One of the main advantages of Nello cows is the fact that, unlike most of our competitors, we have an in-house professional engineering team able to analyze your antenna loading and site conditions to give you the exact capacity and survival wind speed of your unit. By combining decades of design experience and manufacturing expertise, Nello is the leader in portable tower solutions.
Contact us
today for pricing and to learn more about Nello heavy-duty portable telescoping towers.
Nello Torres Portatiles Telescopicas